Name:
Steven Clark
Hero Title:
Liberator (Formerly known as Annihilator and Hope)
Abilities:
Adjusting
Weapons:
Adjusting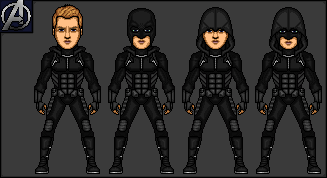 (The Official Suit for Liberator)
(Normal w/out Cowl and Hood, Normal w/ Cowl, Hooded w/out cowl, Hooded w/ Cowl)
Gender:
Male
Race:
Cloned Human
Main Affiliations:
Avengers
Other Affiliations:
S.H.I.E.L.D, Heavenly Three (Former), Future group
Shield Code-name:
Birthplace:
Manhattan, New York
Birth Date:
4/23/2035 (Clone chamber emerge time)
Age:
21 in human years; 5 in clone years
Personality:
Cocky, rude, arrogant. Occasionally shows respect and gratitude in a jokingly manner.
Fatal Flaw:
Overthinking things too easily. He hates being known as the clone of Jacob, and hates living in his shadow.
Face Claim (Optional)
: Freddie Stroma
Relationship status:
In a relationship
Status:
Active (Alive)
Theme Song:Liberator's Primary Theme Song:
Remember the Name
by
Fort Minor
Backstory:
To be Written